Awarded by the Malaysian Ministry of Science and Technology, recognizing Furley Bioextracts contributions and involvements in Biotechnology.
WHAT IS BIONEXUS STATUS?

BioNexus is a special status awarded to qualified international and Malaysian biotechnology companies. The status bestows fiscal incentives, grants and other guarantees to assist growth. This status is awarded to qualified companies undertaking value-added biotechnology and/or life sciences activies. Apart from the overall benefits and support, BioNexus companies are assured a list of privileges as stipulated in the BioNexus Bill of Guarantees.
The selected certifying body for ISO22000 and HACCP enables products manufactured by FBIO to be exported to Europe. 
Find out more about them here.
Additional certifying body for ISO22000 being Malaysian Standard.
The selected certifying body for ISO22000 by Malaysian Standards
Licence to operate a food premises in Malaysia.
The licence enables us to manufacture products which are not for consumption such as balms, liquids & cosmetic bases. These products require registration with the Malaysia Ministry of Health and have been classified as Traditional.
This certification allows us to manufacture unscheduled food supplements which can include supplements with claims.
This includes products with a hologram sticker which will encompass a unique serial number, known as the meditag. These are products which require registration with the Malaysian Ministry of Health.
The ISO 22000 family of International Standards addresses food safety management.
The consequences of unsafe food can be serious and ISO's food safety management standards help organizations identify and control food safety hazards. As many of today's food products repeatedly cross national boundaries, International Standards are needed to ensure the safety of the global food supply chain.
ISO22000 runs on-top of HACCP, further increasing traceability.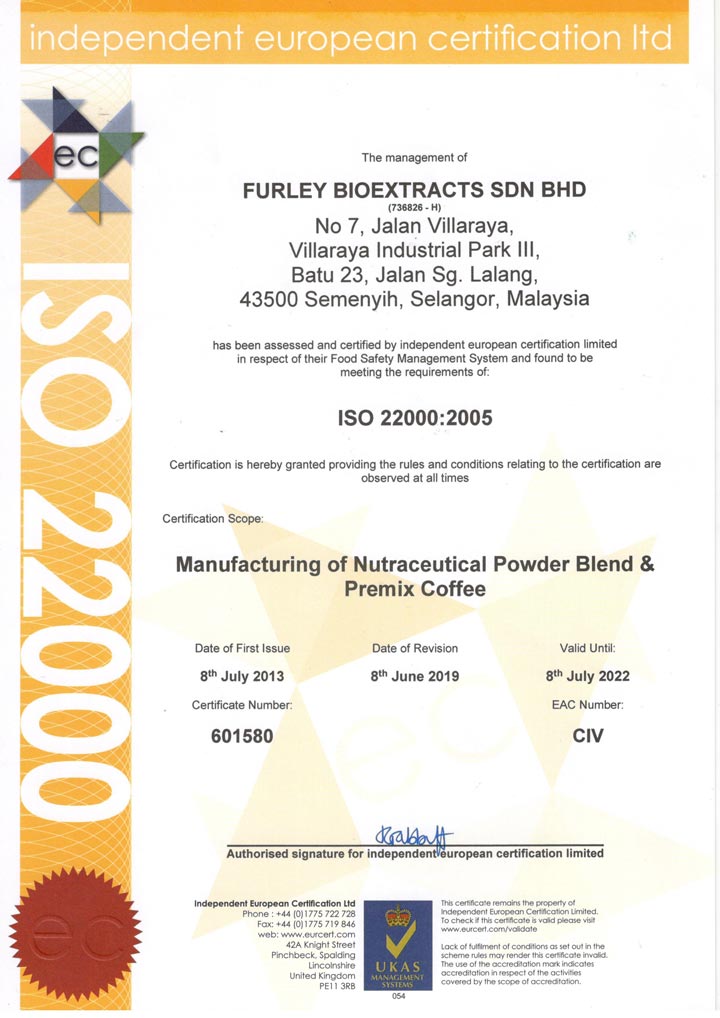 Establishment registration done for USA FDA enable Food and Cosmetics to be exported to USA.
Complementing external creams and balms for traditional and cosmetics are registered as a drug factory in the USA.
Undergoing Medical device warehousing and manufacturing as we expand for our customers needs. 
Engage Malaysia's most Innovative & Award Winning Biotech company.
Popular Product Categories:
Weight related (Loss, management & slimming) – Food
Mens Health (Boosting, immunity, stamina, strength) – Food, Cosmetic, Supplement, Traditional
Womans Health (Immunity, beauty, strength) – Food, Cosmetic, Supplement, Traditional
Kids Products (Allergy spray, Head to toes, Bottle cleaners – Full range) – Household, Cosmetic, Traditional
Household Products (Hand sanitizer, Surface cleaners, Shampoos & Conditioners)
Joint Management (External creams, Food Supplement) – Cosmetic, Traditional
Herbal Ointments (Joint pain, Mens Health, Muscle Relief) – Traditional
Functional External Traditional (Skin remedies and relief) – Traditional
Immunity boosting supplements and food boosters.
This is an Alert
Learn more about FBIO and being product a product owner. Tips and tricks, what to anticipate what kinds of costing should we expect? Research & development of cosmetics, food, traditional and supplements. Got questions about export and reaching foreign markets? We share our experience with you.